Set up dynamic IP for JusProgDNS
For the profile settings on www.jusprogdns.com and the counting of usage quotas, JusProgDNS must assign the end devices you use to your login account. This is done via your personal IP address with which you surf the Internet. You can imagine this like a personal postal code.
Unfortunately, large DSL providers like Deutsche Telekom or Vodafone regularly change the IP addresses of their residential customers, because worldwide there are actually too few IP addresses (IPv4) for the many Internet users and devices. Companies and organizations usually have fixed IP, but for private customers they are not fixed.
JusProDNS therefore offers its own DynDNS service (DynDNS = dynamic DNS, i.e. dynamic IP addresses), with which you can automatically have the IP addresses stored in your user account updated at JusProgDNS.
Note: The service is not suitable as a general DynDNS service for other applications, but exclusively for JusProgDNS.
Usually DynDNS services are used if you want to log in remotely to your home via the Internet and control heating thermostats, view webcams or listen to a digital answering machine, for example. JusProgDNS can not use the existing services, because they do not provide IP, but fixed web addresses. Therefore we provide you with your own DynDNS service for free.
Set up DynDNS for JusProgDNS
To set up the DynDNS service for JusProgDNS, you must first register at www.jusprogdns.com and then log in with username and your self-selected password. You will find the login field, among others, on the top right of this page.
When you are logged in, click on the menu item "DynDNS Info" in the left navigation.

You will then see your personal access data for the DynDNS service of JusProgDNS. These data are usually entered into the administration interface of your DSL box, e.g. the FRITZ!Box. Almost all DSL boxes have a function that transmits updated IP addresses to DynDNS services.
Here is an example of the entry mask from the FRITZ!Box, the masks from other DSL boxes look very similar.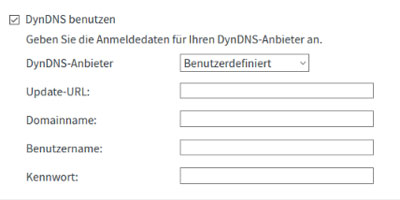 You enter:
At "DynDNS provider" select "User defined", because JusProgDNS is not preset
At "Update URL" you enter the URL that is displayed at the menu item "DynDNS Info". You copy the URL exactly as it is displayed there, do not change the information in the angle brackets.
At "domain name" you enter one of the "domains" we show you in the jusprogdns account. If you enter your general user account name, the IP address will be valid for all your child accounts. But you can also make an entry specifically for a child, then the format is kindername.accountname.
Enter your account user name in the "User name" field. Pay attention to correct spelling and upper/lower case letters.
At "Password" enter the DynDNS password we show you (not your login password for jusprogdns.com).
Save the data in your DSL box.
Tip: It may take some time for the DSL box to automatically update your IP address at www.jusprogdns.com. However, this is usually done within a maximum of 24 hours. Until then, your settings in the account may not yet be assigned correctly.